Bumbershoot pictures
I
FINALLY
found the cord for the camera...
The first show we saw was
The Gossip
.
I ♥ Beth Ditto!
All of their albums have been in heavy rotation at our house since the show. We were too far away for good band pics, but I did some excellent people watching...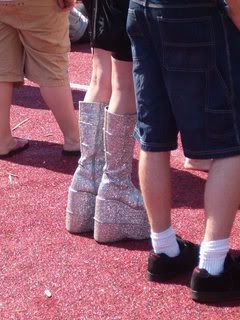 The tickets I won included a very intimate mini concert for
The End
radio listeners, called an End Session. We were four of only about forty in attendance. Hawthorne Heights played a respectable 10 song set.
I must admit, I wasn't much of a fan beforehand, but I really like HH now. Their three guitar sound is really rich and really loud. The guys had fun playing for us and it showed.
Blaine's friend, Aerin, was giddy at the sight of rockstar boys and couldn't believe that they shook her hand and took pictures with them.
"Like. Oh. My. Gawd!! He actually TOUCHED me!!"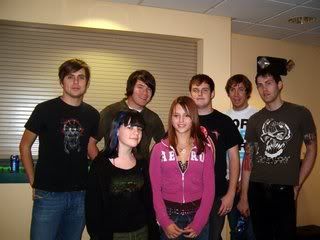 Blaine, on the other hand, lusted after Micah's guitar. When they finished their set, the guys handed out their set lists and drum sticks. Somebody shouted "Hey! Can I have a pick?!" The guys handed out the picks they had...then Blaine shouted to Micah,
"Hey! Can I have your Gibson?!"
Oh. And Yellowcard also played....a crappy, rushed, acoustic set of 3 songs, wrought with technical difficulties. And they were assholes, too.
After the End Session, we went over to the rock art exhibit called
Flatstock
and checked out all the cool concert posters.
We ate footlong corndogs on the grass and listened to a DJ, whose name I can't recall, mixing it up at the Bumbrella stage.
That evening, we went to the mainstage to see the BIG show. Hawthorne Heights, Yellowcard, and AFI.
I was, once again, impressed by HH's musicality. They are good performers that don't rely on a stage show to give a good concert. It was all about the rock. Except for their introduction by Darth Vader and his Storm Troopers, I was again, unimpressed by Yellowcard. And AFI...ugh...had a ridiculous wintery stage set with white speaker stacks, trees and fog...and they all wore matching white outfits. Bleh. It left a bad taste in my mouth. I really regret not leaving early and going to see
Lady Sovereign
.
I've decided that those who can rock, DO...
And those who can't,
give a fabulous light show.
All in all it was a great day. We saw some awesome bands, some cool art and made some fun memories!