A death in the family?
Today we heard some disturbing news
...Misty McElroy has resigned as Director for Rock'n'Roll Camp for Girls. She says her vision and mission were no longer being honored.
It looks as though she may have been forced out by the Camp's board of directors...
From rumors I've heard, Misty is going to court to save her beloved camp.
The question remains...will there be any more Rock'n'Roll Camp For Girls? And if there is a camp next year, will it be a cookie cutter corporate whore kind of camp? A suit and tie version of young female empowerment? Lets hope not.
We love RnRC4G and would hate for it to end. We hope that the allegations against the camp aren't true, and that this is all a big misunderstanding.
Blaine would be swallowed up in a corporate version of camp...they just wouldn't "get" her. She would become invisible. At Rock Camp in the past, she has been able to shine, to be seen for who she is, without worry.
Telling her that Camp is no more would be like telling her that a sister has died. So, for now, I'm holding back the news until the courts decide her sisters fate. I've removed the Camp icon and link until things are sorted out.
Our good wishes go out to Misty and her family. We will always support her and her vision of girls plugging in and turning the dial to eleven.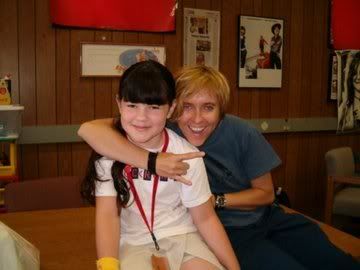 Love and Rock.